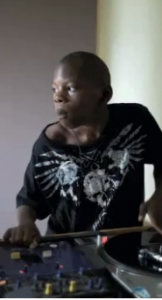 Tinamover, Doc Harrill, has taken Gandhi's quote….."Be the Change you wish to see in the world"  to heart in his own backyard. His passion for people and community have led him to utilize his extensive skills in audio recording, mixing, DJ-ing, hip-hopping and teaching  (see http://www.reverbnation.com/synergyistheidea  ) to make a real difference in Cleveland's urban communities.
The FRESH Camp (see http://www.coolcleveland.com/blog/2012/06/the-fresh-camp-hip-hop-improving-community/ is a synthesis of all his talent and promises to change the way the youth in his neighborhood think…now that's what we call "being the change".
"Give the little that you have, just make it your best," Doc raps to all in hearing distance. "That's how we cultivate FRESH."
Tinamou Consulting honors people like Doc Harrill for their pioneering spirit and unwavering commitment to make this world a better place for us all.
Find out how Doc launched FRESH Camp in collaboration with Tinamou Consulting LLC  www.tinamouconsulting.com –Home of LeaderLaunch
To contact Doc see:   http://TheFreshCamp.com or email doc@deejaydoc.com.